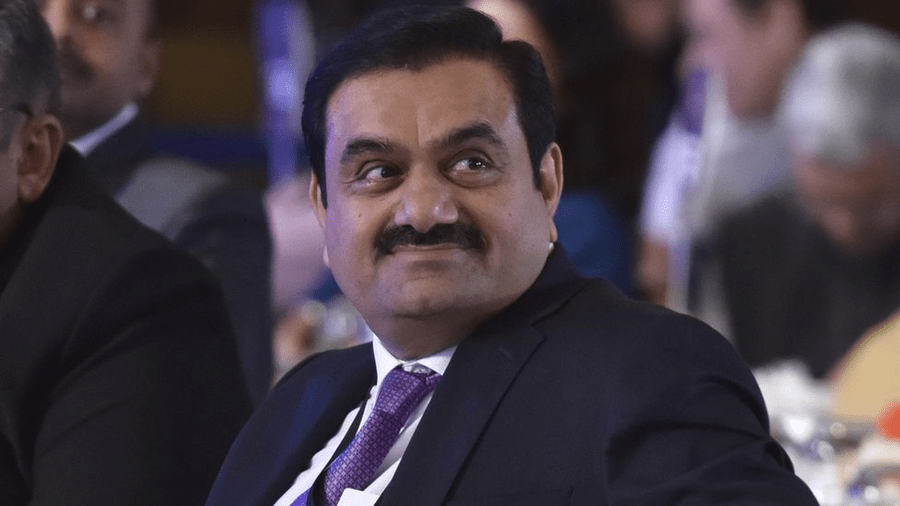 In an effort to soothe concerns about leverage and debt after a negative report from a U.S. short-seller prompted a stock crash, the embattled Indian conglomerate Adani Group said that it has paid off share-backed borrowing of 73.74 billion rupees ($901.16 million).
Adani has refuted Hindenburg Research's claims that it engaged in stock manipulation and inappropriate use of tax havens in its research from January 24, which also noted "substantial" debt levels.
According to a document seen by Reuters, the billionaire Gautam Adani-led firm recently had road shows in Hong Kong and Singapore and is scheduled to hold another round of fixed-income talks starting on Tuesday in Dubai, London, and the United States.
Adani Enterprises' (ADEL.NS) promoters will release 31 million shares, or 4% of the company, while Adani Ports' (APSE.NS) promoters will release 155 million shares, or 11.8% of the company, according to a statement released by the group on Tuesday.
Adani Transmission (ADAI.NS) and Adani Green Energy (ADNA.NS) promoters, respectively, would surrender 1.2% and 4.5% of their respective firms' shares.
The four group companies mentioned previously saw a $1.87 billion stake buy from Florida-based investment firm GQG Partners Inc, which is listed on the Australian stock exchange. Since then, the shares of these companies have increased between 10.2% and 23.4%.
Rajiv Jain, the founder of GQG, will meet with clients and investors this week in Australia to discuss the company's investment in the Adani group, according to a separate statement released by the company on Tuesday.
Following a $1.9 billion Adani investment, GQG founder Jain will meet with Australian investors.


Rajiv Jain, the founder of the investment firm GQG Partners Inc., will meet with customers and investors this week in Australia and discuss a number of topics, including his business's controversial investment in the Adani Group of India.
GQG Partners made the first significant investment in Adani since a stock panic in January following a damning report from short-sellers that cost the company $1.87 billion in shares in four Adani group firms.
In addition to raising worries over Adani's debt levels, the research by US-based Hindenburg Research accused the company of manipulating the stock market and using tax havens improperly. Adani has denied all misconduct and rejected the accusations.
An Australian pension fund customer of GQG has questions about the stake purchase at a time when significant investors, such as Norway's national wealth fund, are offloading Adani shares.
According to two unnamed people who declined to be identified because they were not permitted to disclose personal information with the media, Jain is conducting conference calls with some of GQG's clients while personally meeting with others.
"This week, Rajiv Jain will be in Australia to meet with investors. The trip was prepared months before the Adani purchase, "The statement was given to Reuters.
It's Jain's first visit to Australia since the business was listed on the ASX in 2021, according to GQG, who also noted that it's an opportunity to answer any questions people may have about the business, particularly the Adani investment.
Also Read: Describe Web 3.0. Explaining Decentralized Internet
GQG purchased 3.4% of Adani Enterprises (ADEL.NS), 4.1% of Adani Ports and Special Economic Zone (APSE.NS), 2.5% of Adani Transmission (ADAI.NS), and 3.5% of Adani Green Energy (ADNA.NS) for a total of $662 million.
According to the Indian firms' papers, it bought the stock from the Adani family trust.
GQG administers equity funds for institutional investors such as mutual funds, private funds, public agencies, and sovereign funds in and beyond the United States. Several analysts viewed GQG's investment as a sign of investor confidence in Adani.
In research released last month, Morningstar predicted that GQG's funds under administration, which stood at $92 billion as of January 2023, would expand at a mid-teens CAGR and surpass $180 billion by 2027.
According to its papers, the investment business with an Australian stock exchange listing manages more than two-thirds of funds from the Americas. GQG received $3 billion in net flows in January and February, which is more than two-thirds of the total for the entire year 2022.