To Prevent the Next Pandemic, Follow the Science – Opinion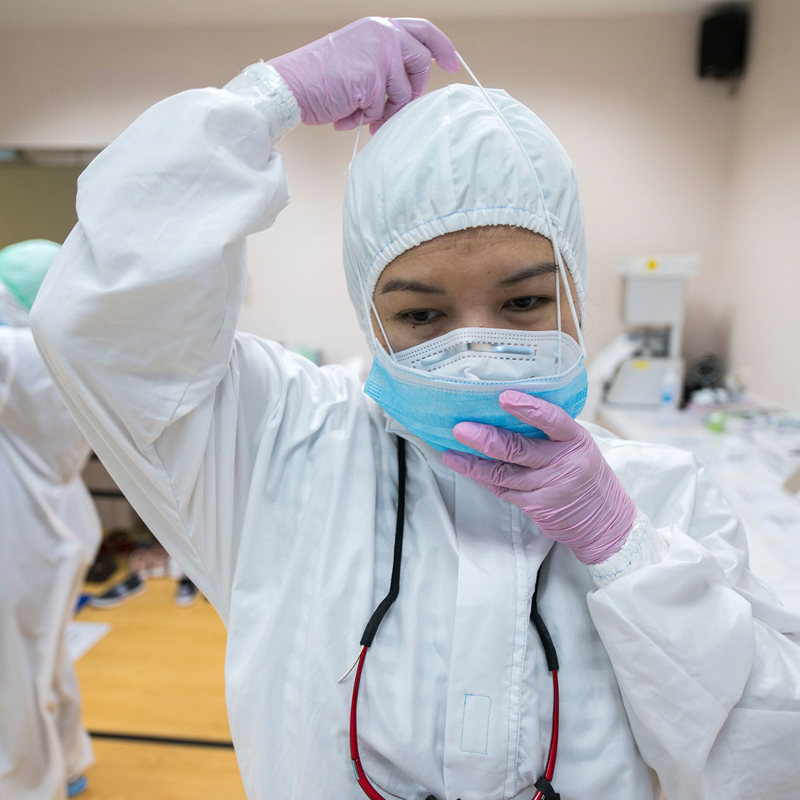 [ad_1]

The COVID-19 pandemic has underscored the critical role of evidence-based policies in addressing global health crises. It has also highlighted the need for flexible strategies, equitable health care, and multidisciplinary approaches that bridge the gap between science and policy and improve scientific literacy.
Science is crucial to improving pandemic preparedness and prevention. It not only deepens our understanding of pathogen transmission and containment but also provides us with the flexibility required to adapt to changing circumstances. Relying on scientific evidence enables us to contain risks at the local level, minimize the delay between early warning and action, ensure the effectiveness and reliability of control measures, and expedite the development and deployment of safe treatments, thereby safeguarding public health.
The COVID-19 pandemic underscored the critical role of science-based policies in addressing global health crises. It taught us the importance of establishing robust early warning systems, basing decisions on data, and fostering multidisciplinary collaboration. It has also highlighted the need for flexible strategies, equitable health care, widespread vaccination access, and mental health support.
Trust in science and expertise has been and remains vital for implementing effective control measures. Policymakers must heed the lessons of COVID-19 and focus on building resilience and fostering international cooperation in preparation for future pandemics while maintaining public confidence in science and experts through clear communication. Recognizing social, economic, and geopolitical contexts has proven to be just as essential to the management of public-health crises as understanding biological factors. Therefore, adopting a holistic approach that aligns with the One Health approach is critical to devising preventive policies.
Effective prevention, preparedness, and response require continuous collaboration and coordination among scientists, policymakers, health-care professionals, and the general public. To mitigate the impact of pandemics, we must remain committed to science-based decision-making, regularly reviewing and adapting our strategies.
This requires a multi-faceted approach that bridges the gap between science and policy and engages all relevant stakeholders. We must ensure that scientific research and data are transparent and accessible to policymakers. Promoting open-access publication and fostering data sharing among researchers is no longer sufficient; we must translate data into comprehensible and actionable insights.
To implement such a strategy, policymakers should focus on seven key priorities. First, they must promote an evidence-based culture that roots decisions in scientific research and data, and encourages policymakers to consult scientific experts and consider their recommendations.
Second, participatory approaches are crucial for garnering and sustaining public support for science-based policies. By creating platforms and promoting methodologies that encourage open dialogue, scientists can build bridges between policymakers, civil society, and the broader scientific community.
Third, it is essential to organize regular briefings and meetings where scientists can update policymakers on the latest research findings and emerging threats. These briefings should be concise and focus on actionable insights.
Fourth, experts should focus on improving scientific literacy among policymakers. This could be facilitated through training programs, workshops, and educational materials designed to simplify complex scientific concepts.
Fifth, scientific modeling and scenario planning can help policymakers understand the potential implications of different decisions. These models could provide a basis for formulating effective strategies and optimizing resource allocation.
Sixth, it is crucial to conduct regular risk assessments based on scientific evidence to identify potential pandemic threats. These assessments should consider biological, social, economic, and geopolitical factors.
Lastly, policymakers must recognize the complexity of today's emerging threats. With public-health risks becoming increasingly intertwined with climatic, environmental, and social crises, the multidisciplinary and multisectoral One Health approach holds the key to tackling interconnected emergencies.
If there had been greater investment in scientific research, international cooperation, preventive measures, health infrastructure, and equitable response strategies before the outbreak of COVID-19, the world would have been better prepared. With this in mind, we have identified several principles that will enable us to prepare for future pandemics.
We call on policymakers and researchers worldwide to establish interdisciplinary One Health committees or task forces that bring together policymakers, experts, scientists from various disciplines – including the social sciences – and other stakeholders. These committees would be responsible for analyzing scientific evidence, proposing strategies that are both relevant and adaptable, and providing guidance to decision-makers.
To enhance preparedness and responsiveness during crises, we advocate the development of country-level mechanisms that would facilitate discussions between scientists, decision-makers, and the general public. This would encourage information-sharing and help raise awareness of potential risks.
We also recommend developing indicators that reflect social and economic health at the local level. Policymakers must consider these indicators, along with potential externalities and other factors that may precipitate public-health emergencies. In times of uncertainty, the precautionary principle should guide decision-making.
We propose implementing adaptive strategies that incorporate the latest scientific knowledge. These plans must be regularly assessed and improved to reflect new findings. A systematic approach to pandemic prevention, preparedness, and response could help identify which measures are effective and which require adjustment.
Actively engaging with the public and the media will be crucial to fostering an understanding of the science behind public-health measures and ensuring that the right messages are communicated clearly and effectively. Moreover, empowering communities by involving them in the development of prevention solutions should be a high priority.
International scientific collaboration and coordination are imperative. By building on past and present innovations, we can maximize the use of resources and benefit from a global pool of expertise and data.
Long-term funding also is vital for science-based decision-making. Investment in research, surveillance, and preparedness must be maintained over time, rather than solely in response to a pandemic. By adjusting funding mechanisms to allow for flexibility in backing intersectoral projects, we can tailor objectives to local needs.
Incorporating science-based solutions into decision-making is an ongoing process that requires collaboration, trust, and a steadfast commitment to using the best available evidence to shape policies and actions. To ensure the efficacy of pandemic prevention strategies, mechanisms for monitoring and adjustment must be established.
The sixth annual Paris Peace Forum on November 10-11, particularly the session "From Science to Policy: How to Inform Decision-Making on Pandemic Prevention, Preparedness, and Response?" will provide policymakers and donors with an opportunity to reflect on the hard-earned lessons of the past three years and confront these pressing challenges head on.
This commentary was jointly written by the PREZODE consortium, international scientists, decision-makers, civil-society organizations, private actors, and international donors. 
It is signed by: Magda Robalo, President of the Institute for Global Health and Development, former Minister of Health of Guinea Bissau; Papa Seck, Senior Advisor to the President of the Republic of Senegal; Marie-Ange Saraka-Yao, Chief of Resource Mobilization and Growth, Gavi, the Vaccine Alliance; Brigitte Autran, member of the Committee for the Monitoring and Anticipation of Health Risks (COVARS); Jens Nielsen, CEO, World Climate Foundation; Eloise Todd, Executive Director and Co-founder of the Pandemic Action Network; Jean-Luc Angot, Special Envoy for the Preventing Zoonotic Disease Emergence initiative (PREZODE); Elisabeth Claverie de Saint-Martin, President and CEO of the French Agricultural Research Centre for International Development (CIRAD); Philippe Mauguin, CEO of INRAE; Valérie Verdier, CEO of the French National Research Institute for Sustainable Development (IRD); Musso Munyeme, Professor of Veterinary Public Health, Department of Disease Control, One Health Coordinator (ACEIDHA), The University of Zambia; Osman A Dar, One Health Project Director, Royal Institute of International Affairs; Cheryl Stroud, Executive Director of the One Health Commission; Thi Phuong Vu, Viet Nam One Health Partnership Secretariat; Manuelle Miller, Vice-President of VSF-International; Pham Duc Phuc, Coordinator at the Vietnam One Health University Network (VOHUN); Zeev Noga, Secretary General of PREZODE; Agnès Soucat, Director of Health and Social Protection at the French Development Agency; Thierry Lefrançois, Consultant at One Health at CIRAD, member of COVARS; and more.
This op-ed was first published in Project Syndicate.


[ad_2]